If you are a plugin developer, then you should know that the Plugin Directory had a recent policy change regarding the notice displayed for old / un-updated plugins. Instead of a time-based warning, it is now a version-based warning.
Old WordPress Plugins
WordPress Plugin Directory has several mechanisms to ensure compatibility with newer WordPress versions and to encourage developers to upgrade and maintain their plugins. Old plugins are excluded from search results — this way only plugins that have been updated recently get displayed and promoted in the Plugin Directory.
In addition, when navigating directly to a plugin page, there is a notice saying that the plugin hasn't been updated for a while and it may no longer be maintained or supported. This way the user can choose whether to use the plugin at his risk or try to find better alternatives.
From a plugin developer's point-of-view, the plugin needs to be maintained and updated constantly and regularly to be presented on the Plugin Directory. Otherwise, the plugin will be displayed with a warning and excluded from the search results.
Policy Change: Time-Based Notice vs. Version-Based Notice
In the old Plugin Directory, the notice was based on the Last Updated field – a time-based warning. The new notice is now based on the Tested up to field in the readme file – which is a version-based warning.
Note that plugin developers don't ncessecarily need to release a new version to update the "Tested up to" field. It can be done by changing the "Tested up to" field in the readme file. Even though it may be a quick task for developers, this information provides peace of mind to users and helps encourage them to update to the latest version.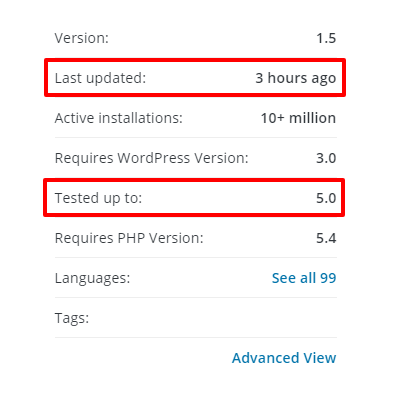 Up until now, if a plugin hadn't been updated for over 2 years, it had the following warning in the plugin page's header:
Currently, if a plugin hasn't been tested with the latest 3 major releases of WordPress, the following warning will be displayed:
The Policy Change Meaning
This policy change has a big impact on plugin developers. In the past developers had 2 years before the warning appeared, but now they will have to update their plugin once every year at the very least, as WordPress has 3 major version releases each year. You can say that its a bad change for developers, unless they keep their plugins updated.
On the other hand, the change is very good the users and the entire WordPress industry alike, because it guarantees that more plugins will be updated to keep their ranking while ensuring compatibility with latest WordPress versions.